It has only been a few months since I realized how delicious carrot cake is! It is quite an interesting concept- carrots in a cake?? Who ever thought of that!? Now, you may be wondering how carrot cake can have a "healthy" twist- "just because there are carrots in it doesn't make it healthy." Well, you would be absolutely right! But, what would you say if I told you this recipe takes out 75% of the oil amount- decreasing the calories by 1,560 and the fat amount by 126 grams- and replacing the oil with PUMPKIN! Yes, pumpkin! Not only does substituting the pumpkin for the oil make this cake a lot healthier, it also makes it so moist that I don't think you will ever go back to using the full oil amount. Feeling a little iffy about this pumpkin switch…I guess you will just have to bake it (and eat it, of course) to believe it

But, this has become my husband's favorite dessert, even with knowing the healthy substitute!!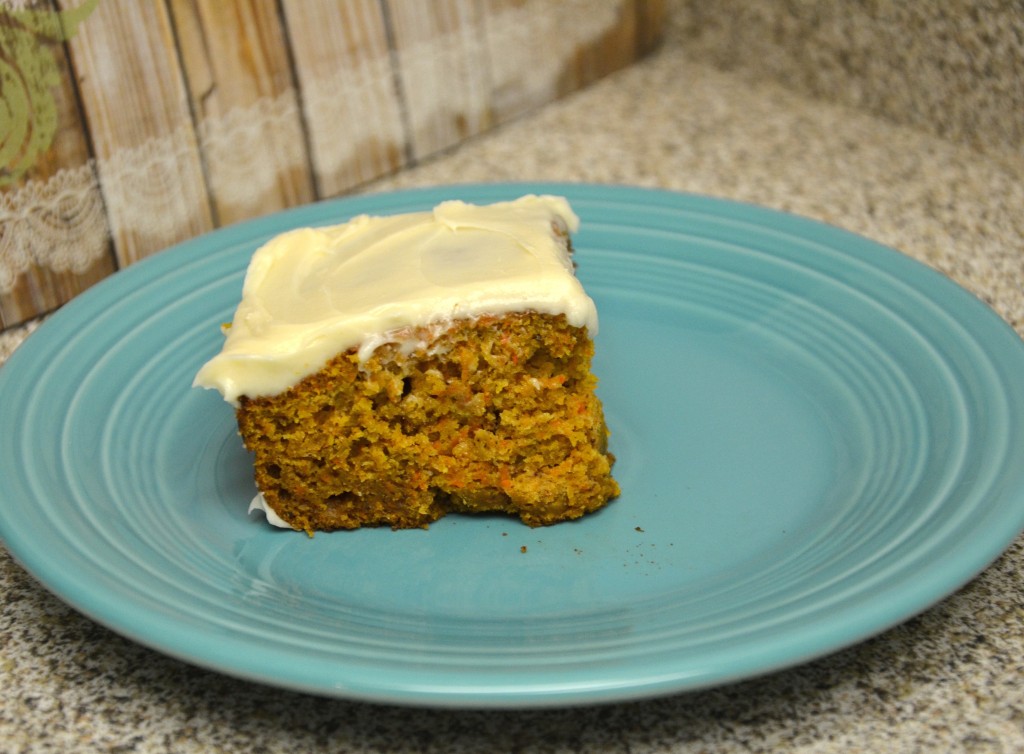 What You Need:
3/4 Cup Brown Sugar
3/4 Cup Sugar
4 Eggs
2 Cups Flour
2 tsp Baking Soda
1 TBS Cinnamon
3/4 tsp Salt
1/4 cup Oil
1 cup + 1/4 cup Pumpkin
2 cups Grated Carrots
FROSTING
1/4 cup Butter
1/2 stick (1/2 cup) Cream Cheese
Scant 2 cups Powdered Sugar
1/2 tsp Vanilla
1 TBS Milk (Add more as needed)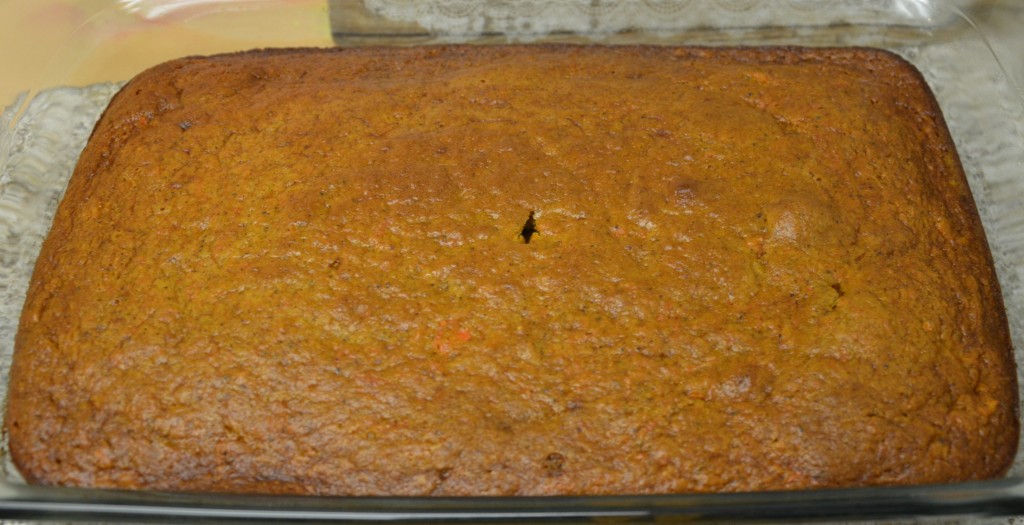 The How-To:
1. Add all the ingredients except for the carrots into a kitchen aid bowl and mix. [Take out your butter and cream cheese to soften for the frosting]
2. Grate carrots. [If you have a newer Kitchen Aid, I would highly recommend this grater attachment! We received it as a wedding gift and have loved using it for grating cheese, carrots and more! Check it out- it's pretty awesome! Click the photo below!]
3. "Fold" carrots – gently combine them to the batter without stirring or beating using a spatula.
4. Prepare a 9×13 glass pan. Pour the batter into the pan and bake for 40-45 minutes at 350º. At 40 minutes, check the cake using a knife to see if it is cooked all the way through. If the knife comes out clean, it should be done; if not, it needs a few more minutes.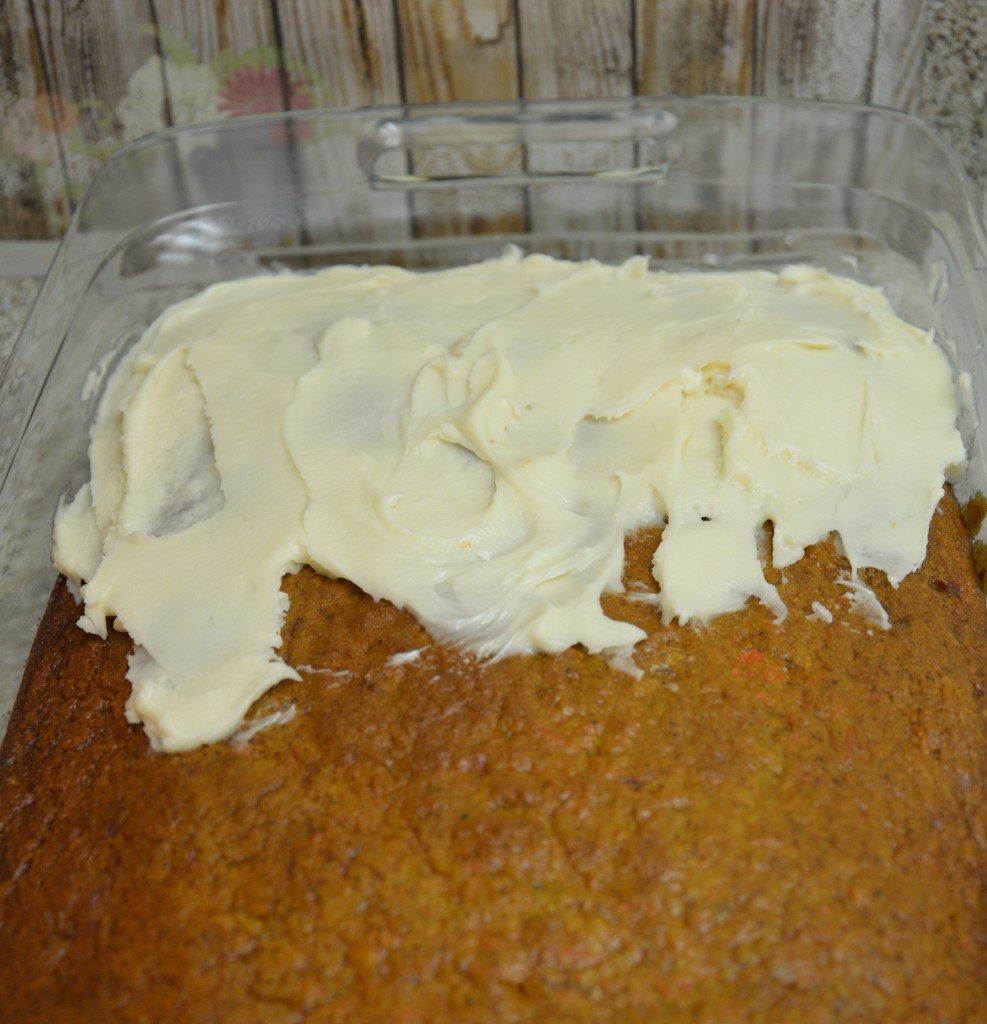 Making the Frosting…
Take your room temperature butter and cream cheese and add to the kitchen aid. Mix until very creamy. Add 1/2 of the powdered sugar and mix on low. Add the rest of the powdered sugar, as well as the vanilla and milk. The frosting should be thick so do not add so much milk that it becomes runny. Once the cake cools, you can add the frosting. If you are not going to frost the cake right away, place the frosting into the refrigerator.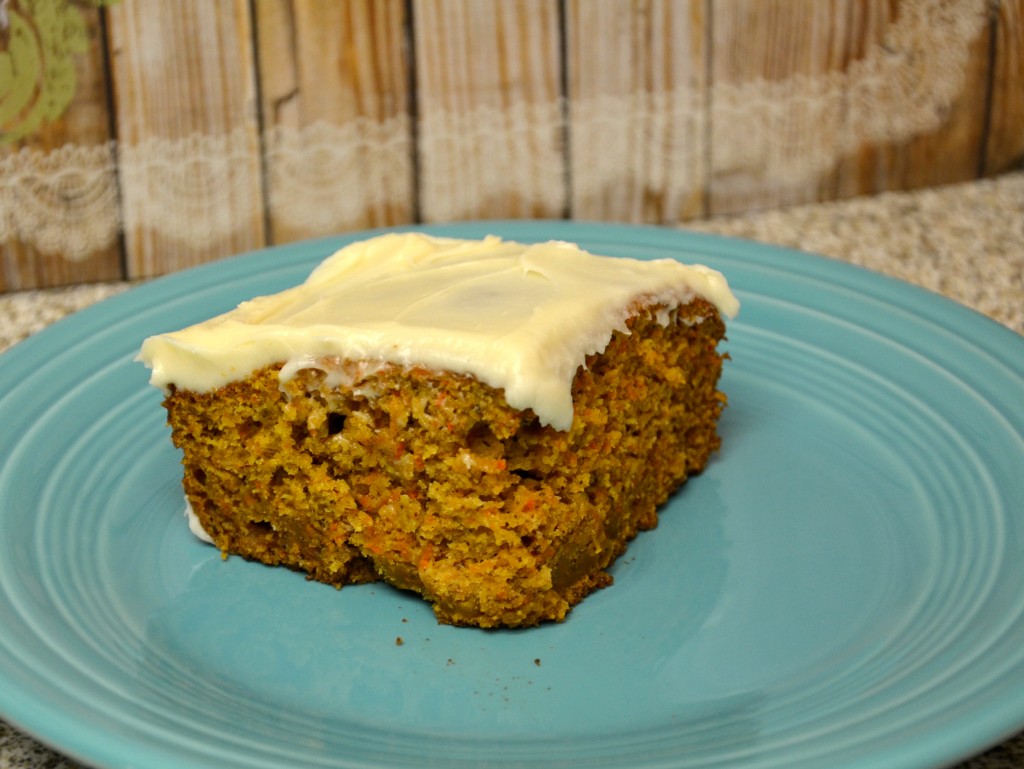 Enjoy!

[Recipe card will be added to this post shortly!]