To See All Articles by Bekah, Click Here
Sister #4
Bio Details – from 2017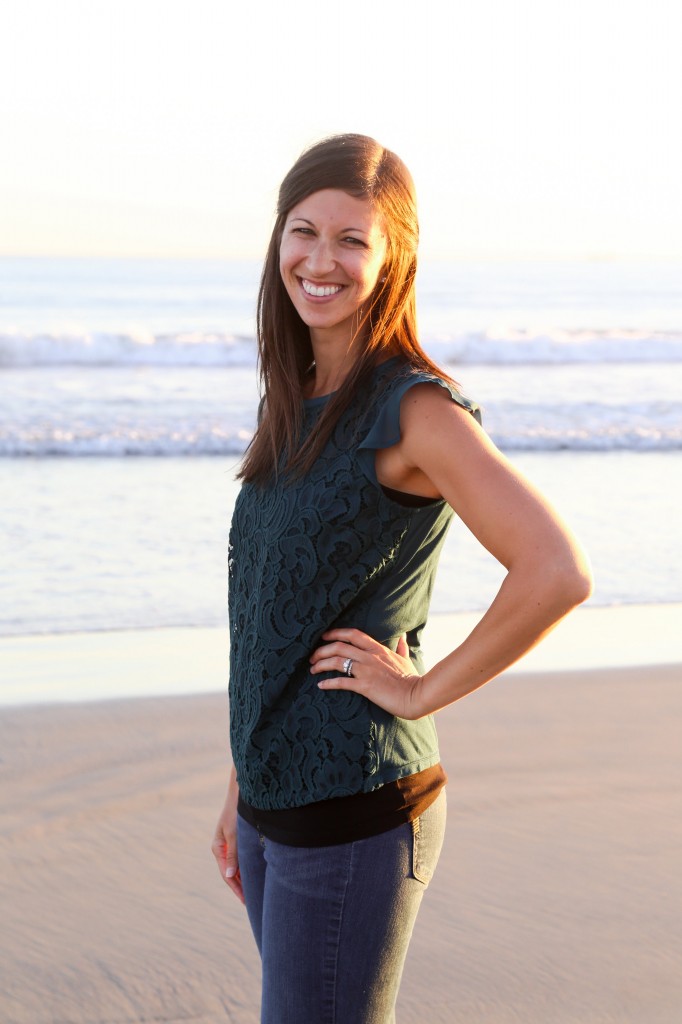 Hi, I'm Bekah, the "baby" of the Weisser Family. I am also the wife of a Pediatric Resident, and Mom of Sophie, who is turning 1 in just a few weeks! Before these latter roles became a part of my life, I attended Azusa Pacific University for college. I played softball for the four years I was there and got involved with Fellowship of Christian Athletes, combining my passions of sports and Jesus. I majored in Industrial/Organizational Psychology (basically psychology in the workplace) and minored in Marketing. I didn't know exactly what I wanted to do when I finished college so I moved home to the Bay Area temporarily. Soon after, I got engaged to my college sweetheart and thus reignited my passion for planning and finding "the best bargains around" while planning my DIY on-a-budget wedding.
A month after getting married, we moved to the Caribbean to pursue my husband's dream of becoming a doctor. If any of you know the process of becoming a doctor, you know it is quite the crazy ride. Add in going to a Caribbean school, and it gets even crazier, if you can imagine. We lived there for two years, and although it was one of the bravest things I have every done, it was also the hardest. The best part about that experience were the friends I made who now continue to go through this journey along side me –especially because the journey didn't end once we left the Caribbean…We were then placed in the United States for Clinical Rotations, the second half of medical school. We moved to Redlands, and after the first year there, my husband lived temporarily on the East Coast for a couple months, we lived in the Bay Area for a month, traveled all over the US for Residency interviews, and then finished the year in Redlands; Oh yea, and, all the while, I was pregnant.
But we survived, my husband finished medical school (he is officially a doctor now!), and we had a beautiful baby girl to add the role of parents to our repertoire.
About nine months ago, we moved to Clovis, CA to begin Residency ("Doctor Training") for the next three years. We have spent the last few months in our new home getting settled in to what will be our longest stretch in one place since getting married. Although it has taken us longer to move in and figure out this residency life than we would've liked, we really feel like this is home! I'm excited to keep learning more about our new life here, find some new places to get involved and settle into a church to settle, too!
And, now, I get to pursue my dream – being a Mom – while still supporting my husband through his! My daughter, Sophie, has been the biggest bundle of joy in my life. Even though she has "FOMO" (Fear of Missing Out), which has led to more of a napping struggle than I ever thought possible, her smile can make anyone's day! I didn't know that one little person could take up so much room in my heart. God is teaching me so much through motherhood; I am not in control, I need to go to Him for my strength, and that He is my source of True Peace, to name a few.
Some of my passions and hobbies include baking, crafting, making photo books, going to Disneyland, planning parties, fitness, and making a memory at every moment possible! Sophie and I love playing (usually me chasing her around), going on walks, getting some energy out and making new friends at her gymnastics class. We love to go to the zoo and spend as much time as possible at the pool during the summer heat months!
As a previous college athlete, fitness and nutrition have always been a part of my life. However, I didn't realize until I stopped playing sports just how important the nutrition is for not only my physical health, but especially my mental health. Two years ago, Rachel shared with me about Isagenix, my whole family's now favorite superfood nutrition! I have been using the products since, including through my whole pregnancy and as a nursing Momma. As Sophie is beginning to be more interested in what I'm eating, I'm looking forward to sharing the products with her, as well as the mindset I hope for her to be a strong, confident, and healthy!
My word for this year is PEACE. I want to feel and know "the peace of God which transcends all understanding" (Philippians 4:7), and I want to instill that into my daughter as she grows up, as well.
Facebook: https://www.facebook.com/bekah.weisser
Instagram: @bekahb623
Isagenix: http://bekahbanihashemi.isagenix.com
Fun Facts – From 2013
Life Motto: "I can do all things through Christ who strengthens me." Philippians 4:13
Favorite Food: Fruit, Veggies, Peanut Butter, Hummus
Favorite Dessert: Frozen Yogurt and Chocolate
Favorite Disney character: Jasmine because I got to marry Aladdin just like her 😉 [See my full bio to get what I mean :D]
One thing you cannot live without: Melaleuca Chapstick
Favorite book or movie, tv show: Redeeming Love, Elf, 24
Bucket list item: Ride an elephant, Go to Greece and Italy, Go to every Disney Park
Married to…On June 23, 2012, I married Ashkon, the love of my life who can make me laugh harder than anyone! We met at APU our freshman year and were inseparable throughout our time there. We really enjoyed going to each other's soccer and softball games, going on frozen yogurt dates, making meals together, playing games, and anything else that was cheap and fun 🙂
Kids…None yet 🙂
Graduated from/majored in/previous work..I graduated from Azusa Pacific University with a major in Industrial/Organizational Psychology and a minor in Marketing. I played softball at APU, which was a major in itself with the amount of time I spent on the field during my college career! 🙂 I loved getting to integrate my love for Jesus and my love for softball and share it with girls who grew to be more than teammates but family! After graduating, I moved home and soon became my own wedding planner 🙂 Ashkon surprised me with a proposal a few months after we finished our senior year, and I let no time pass before starting the wedding planning! We had a predominantly DIY wedding, but I had so much fun thinking, designing, planning, and creating everything for our special day, with the added challenge of staying in a tight budget!
Life now…Now, my full time job is a wife 🙂 My husband and I live in Grenada, in the CARIBBEAN! Yep, we live on an island at the southern tip of the Caribbean off the coast of Venezuela. My husband attends medical school at St. George's University. I am a planner and it definitely would not have been in my life plan to move to a Caribbean island a month after getting married, but it was God's plans for us and we are doing it! Now, I get to enjoy the Caribbean sun (for the both of us)! But, more importantly, I get to support, encourage, love, (and feed!) my husband, among many other things on the island! I love being a part of this journey with him as he works toward his dream of becoming a doctor!
Passion…I am passionate about my husband and his journey of becoming a doctor, Jesus, sports, combining those two passions through mission trips and sport ministry camps, creativity and crafting, baking, and being active! I LOVE the SF Giants, Disneyland, eating healthy and maintaining a healthy lifestyle, planning and making lists, and Trader Joe's.
Favorite bible verse/quote/life verse…..Bible Verse- "For God did not give us a spirit of timidity, but of power and love and self-control." 2 Timothy 1:7
Quote– "You can't buy happiness, but you can buy ice cream. And that's kind of the same thing."
Favorite growing up memory…My favorite memories growing up always include my sisters and softball. I loved anything and everything that I did with my sisters! We had so many great memories, but I probably have to agree with my sisters on this one and say Secret Messages 🙂 I also have such amazing memories from playing softball growing up. I got to travel around the U.S. going to tournaments with girls who I now still consider some of my best friends- We probably spent almost as much time laughing with each other as we did actually playing softball! One of my all-time favorite softball memories will probably always be getting to play in the Women's College World Series Stadium in Oklahoma as a 12 year old with my favorite Stompers team.
Favorite food….My favorite foods are fruits and veggies! I love green apples, carrots, cucumbers, green grapes and watermelon! My favorite treats are frozen yogurt and chocolate 🙂
Hobbies….I love doing all types of crafts. I used to scrapbook (my mom jokes that I got tired of waiting for her to do it. Since she was so busy by the time she had me- the 4th child- I just decided to do my own) but with the expensive cost of supplies and the increase in technology, I now love making photo books! Since becoming a wife, I have really begun to enjoy cooking and finding healthy recipes! I love playing sports- softball and volleyball are my favorites, but I also really enjoyed getting to play on an indoor soccer team with Ashkon the year before we got married! Now that I am out of college and not on a team for the first time in about 20 years, I have had to be more creative to be active. I have found some great exercise classes here in Grenada and I love doing anything else that includes being out in the sun and getting exercise! I love to bake. I have learned how much I enjoy baking even though I only have a toaster oven. I bake all the time, even when everything takes just a BIT longer than usual. For example, I used to make 32-40 cookies at once, but now can only make 4 or maybe 6 if I'm lucky! But I still do it. Yep, I really love baking! 🙂 And Ashkon loves eating, so it works out well.
Favorite sister activity….I loved anything and everything that I did with my sisters! We would play outside for hours, play with our American girl dolls, practice our sports, make forts, play computer games together…you name it, we did it all! But, I think my favorite times were in the pool. We would spend HOURS in our pool each year! Rachel and I would make up pool gymnastics routines- practicing until it was perfect- and then call out whoever was home (usually just my mom) to show her our routine! I can't tell you how many times we did this, but every single time she would enthusiastically clap and cheer after our "performance"! All four of us would also have diving board contests! We would think of all different categories and then have to do different jumps for each one. If there was anyone else around, we would make them our judges to score each of our jumps! My most favorite pool activity would definitely be Fun Noodle Softball!! We used a fun noodle as a bat and a whiffle ball. Then, we had the perfect shaped pool for bases! We really should have marketed this game because it really was so much fun!
Coolest place you have ever visited….Well since I LIVE on a Caribbean island, I will say St. Lucia. It was where Ashkon and I went for our honeymoon- so it probably helped that we stayed in the all-inclusive Sandals Resort! We had so much fun getting upgraded to an amazing room (because of a cockroach- that's a whole nother story!), relaxing by our private pool, eating great food without having to pay (almost felt like we continued to dine and ditch) and also see the island on some excursions!
Funniest moment….I can't choose just one so the funniest moment in my childhood (which was just discovered a couple years ago from a night of home movies) was on Christmas Day when I was 5. My parents always liked to pretend that we were opening up our last present when really they would have 1 or maybe 2 surprises left. So, we weren't too surprised when our dad went racing back into my parent's room to grab each of us girls one more gift. As we ripped off the wrapping all at once, I was so excited to see a NEW GAME! My sisters were busy showing off their new matching jackets. I wanted to share my excitement so as I am trying to yell "A game, Mommy look a game" I soon realized that our parents and grammies were busy checking out the fashion show of the new jackets- taking pictures, giving compliments on colors and how they looked. During all of this, I'm still trying to get someone to look at "my" new game. "A game, a game! Mommy look a game." My voice got quieter and quieter until FINALLY my mom noticed and told me it was the greatest game ever. Not until I saw the replay of the video did I realize that I had been given The Family Game (We would get a new family game as a tradition every Christmas) because our dad was worried that they didn't have enough gifts for us and went out the night before Christmas to get the jackets and there wasn't a size small enough for me. My sisters joke that our parents have been making up for it ever since- They say I'm spoiled, but I just say loved 😉
My more recent funniest moments include my now husband! As you've heard before, a common treat of choice of all of ours is Golden Spoon Frozen Yogurt. So, on one of the road trips from So Cal to Nor Cal that Ashkon and I went on, the topic of golden spoon came up. Even though it was May, we started talking about what we should be for Halloween. After a few ideas, we began talking about how funny it would be to dress up as Golden Spoon. We talked for quite awhile, at first thinking it was just a funny idea, then the more we talked about it we thought it could really happen! As soon as we made it to my parents house, we told my mom our idea because we knew we would need her help with our costumes. She was definitely in and loved our idea. With some creative thoughts and a run to the fabric store for inspiration, we completed our plan by deciding that Ashkon would be a golden spoon and I would be a cup of frozen yogurt! Again, this was in May, but we decided that we would keep our costumes a surprise. Well, fast forward to the beginning of October. We head to Golden Spoon for one of our many dessert runs. In the fro yo shop, we see a huge sign saying that the best Golden Spoon costume will win FREE FRO YO FOR A YEAR! We could not believe it! And, to make a long story short WE WON!!! We were named Mr. and Mrs. Golden Spoon Our costumes were so amazing that we got applauded when we walked into the shop on Halloween night. The random people who just went to get frozen yogurt were taking pictures of us- It was amazing!! I don't think we will ever be able to top those costumes! It doesn't do it justice to describe our costumes, so here is a picture!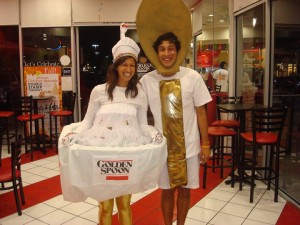 My second current funniest moment was at our wedding. Ashkon is Persian and has been told that he looks like Aladdin. And, I love everything Disney! So, at our wedding, in front of our 350 closest friends and family, he took me on a real magic carpet ride- No joke!! He came out in his Aladdin costume (We had been Aladdin and Jasmine for Halloween a couple years back and had kept the costume) serenading me with "A Whole New World". After the initial shock wore off of what was happening, the groomsmen appear with the magic carpet! They had all made it from a wood palette and with a carpet on top. Ashkon then jumped on top of it, still singing, while his groomsmen carried it and swayed it up and down- they were real troopers! About half way through the song, Ashkon jumped off and grabbed me to come on the magic carpet ride with him! After our ride, we finished the song dancing in each other's arms, and I, of course, chimed right in singing the Jasmine part of the duet 🙂