Tortilla Stew – The Perfect Survival Meal for the Busy Mom
Taking a meal or groceries to a new mom is one of the greatest stress relievers. Thinking of what food to prepare for meals, let alone choosing what to eat day to day, was very difficult for me when I first became a mom. There are so many things at play – sleep deprivation, having to take the baby out to get groceries, not having the time to prepare a meal – so to have someone simply say that they will bring over dinner is such a relief! This is one of my favorite meals to make with a busy toddler and not always having the time I would like to prepare dinner. It is a "Throw everything thing in the crockpot, turn it on, and leave it kind of a meal" and it is delicious, making it a perfect meal for your own family in your busy life or to make for a new mom in need!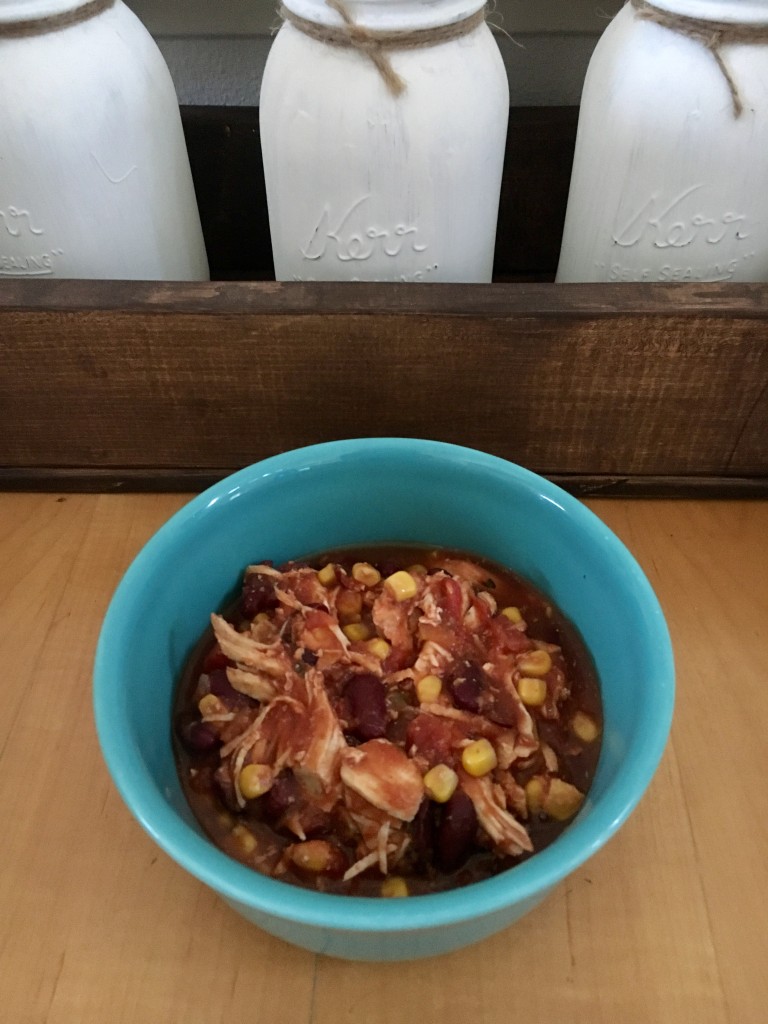 Ingredients:
1 Can of Tomato Sauce
1 Can of Stewed Tomatoes
2-4 Chicken Breasts (depending on how big they are)
1 Cup of Salsa
2 Cans of Kidney Beans (or Black Beans), drained
1 Can of Corn, drained
On the Side: 
Shredded Cheese
Spinach
Cilantro
Whole Wheat Tortillas (I've really been liking the Whole Wheat Corn & Flour Tortillas from TJs)
Chips
Salsa
Veggies: Carrots,  Cucumbers, Bell Peppers
Optional: Add another can of Stewed Tomatoes, Add more beans or a variety of beans, Tapatio Sauce (my hubby likes to add this to his stew for more of a kick)
Instructions:
Combine all ingredients in the crockpot in the order specified above.
Cook on Low for 8 hours. Stir every few hours. In the last hour, shred the chicken and stir.
Serve in bowls with side options to sprinkle on top (cheese, cilantro, chips)
Our Favorite Ways to Eat this Meal:
A scoop of stew on a shredded bed of spinach
Top your stew with shredded cheese
Use the stew as the filling for a grilled quesadilla
Make a quesadilla (open face) on the side and dip into your stew/make your own tacos
Use leftover stew for a Tortilla Casserole Bake
I love how this is a full meal! Once the meal is done, pack a bag with chips, salsa, tortillas, and veggies for some different sides. This recipe also makes A LOT which is always nice to share a meal that will have leftovers!