Lavender's Blue Designs Products & Reviews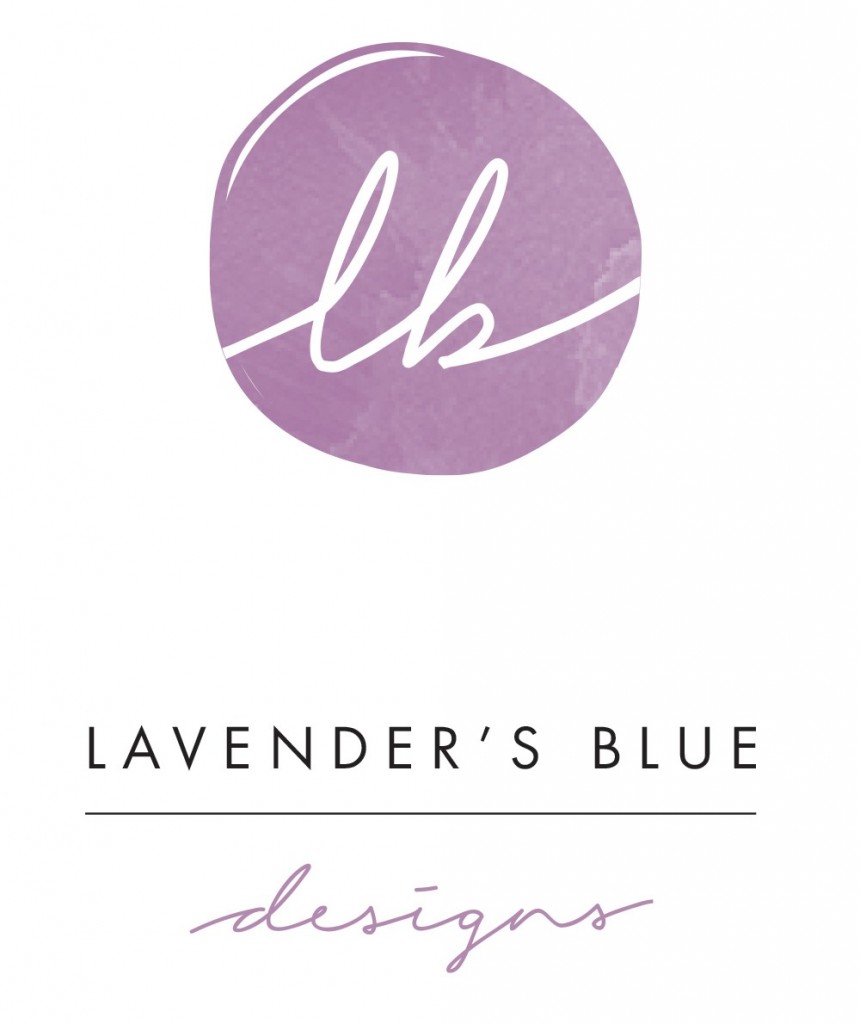 "Lavender's Blue is a design studio offering custom stationery designs for all the celebratory events in your life, whether it's a wedding, new baby, birthday, or just because. I also offer coordinating items such as menus, place cards, favor tags, and decorations to help you create an event that is truly unique and memorable."
"I am a designer and teacher with a degree in architectural design. I have a passion for smart and thoughtful design, whether in architecture, drawing, graphics, photography, sewing, or crafts. Stay up to date with my current design projects at my blog www.lavendersbluedesigns.com."
Lavender's Blue Designs has a 5-star review on Etsy and plenty of enthusiastic reviews from very happy customers after working with Becca. Not only is Becca's work greatly enjoyed, but customers really appreciate how detail oriented, efficient, and creative Becca is with her work through Lavender's Blue Designs.
"Best Etsy seller I've worked with! So sweet, super cute packaging, and lightning-quick turnaround!"
"So friendly and efficient. She even sent me a little extra as a thank you! I will buy from her again."
"Beautiful packaging! Timely arrival, friendly seller! Thank you!"
"I love this idea!! You are such a creative teacher.. Those kids are lucky to be in your class!! I hope you'll have a full map. Please post a picture of it when you do get your postcards back." Chau for the DIY Balloon Launch Postcard
"Becca is one of the most caring people I know, and her thoughtfulness fuels her creativity. Her designs are clean and modern, and nothing she does is ever without extensive deliberation. Her concern for her quality of work comes out in everything she does – even little things for friends! She is definitely a designer at heart! I have seen her designs range from eye-catching promo posters, cute desk calendars, and party name cards to gorgeous wedding invitations and conversation-piece art prints. I know how seriously she takes her work and her professionalism is impeccable. She has an eye for design that is enviable, and anyone who is fortunate enough to stumble across her services will never be disappointed!"          -Emily V.
"I've enjoyed Becca's work through a number of different venues: wedding invitations, a bridal shower, event posters and even Super Bowl decorations! I've always admired Becca's work and creative eye. She has the ability to take almost any idea and create something tangible and beautiful. But even better, Becca's an amazing host, cook and friend, she is definitely an artist we should all support!" – Marieke C.
Bekah describes her experiences, "I have had the opportunity of being a part of two of Becca's incredible party productions. Usually in Grenada, when planning a party, one is very limited with the materials that can be acquired, the space available for a party, and the ability to create a "Pinterest-saavy" celebration (which has become the status quo when planning any sort of party :D)."
Becca says, "Throwing a party in Grenada is almost as hard as throwing a party in Beijing. No Michael's, no Paper Source, no Etsy, no boutique party decor stores. Not even a Wal-Mart. We're lucky when we go to the grocery store and the milk and butter are in stock. 🙂
"Becca went above and beyond anything that I could have imagined for a Grenada Bridal Shower! Although still limited with materials and space, she was so creative with what she had and would find any sort of loop-hole to make her party plans complete!"
Becca continues, "That being said, I was determined to pull off a beautiful bridal shower for my friend Yunah, even if it meant making everything from scratch! Luckily, we were able to find a few things that we could work with like tissue paper, coffee filters, recycled bottles and jars, and jute twine. I also had an awesome team of crafters and bakers who helped me do everything from crocheting doilies to fluffing pom-poms to making scrumptious treats like Chinese egg tarts, biscotti, and bubble tea!"
The first party I went to was a Bridal Shower Tea Party. (Photos by Kat Fung)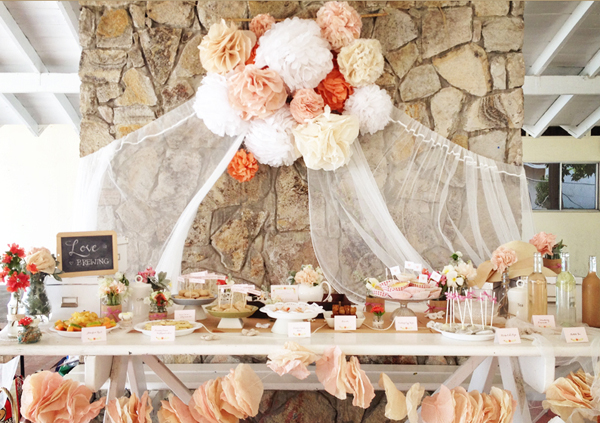 I was completely amazed (and a little jealous with just how creative Becca is and could be in Grenada :D) with this first party! So, when I was invited to the next baby shower, I had high expectations. And, to no surprise, Becca delivered another quite incredible party- A French themed Baby Shower!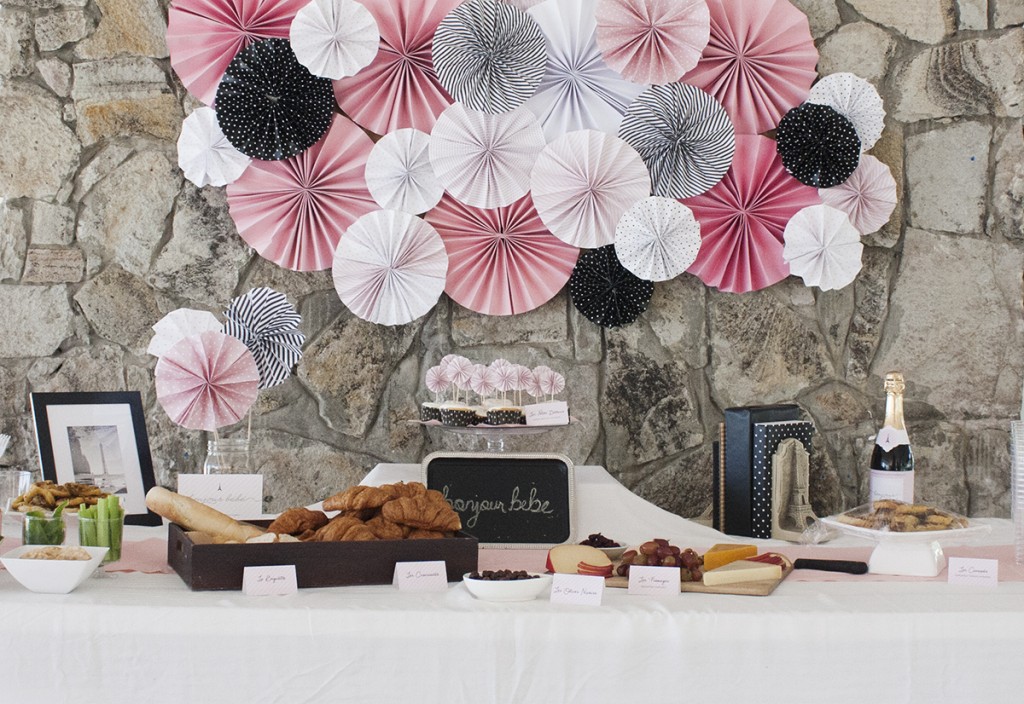 Yunah, the Bride-to-be and Momma-to-be at these amazing parties, said, "I had the pleasure of getting to know Rebecca while living in Grenada. I was immediately drawn to her genuine, sweet and caring personality. Soon I got to witness her amazing talents as a professional graphic designer who specialized in customized stationaries such as invitations, logos, and decorative prints for party events. Seeing some of her previous work on her website, I felt confident in asking Becca to be in charge of all my wedding stationaries (wedding invitations, customized wedding program, dinner menus, table and guest name cards, etc.) for my wedding in Grenada. Needless to say, it all turned out fantastic! All the guests at the wedding noticed the fine details of my wedding stationaries and was very impressed. Becca also planned and decorated my bridal and baby shower, which earned her the nickname "Asian Martha Stewart" among all our friends in Grenads. She designed and created all the decorations from scratch, with the printed designs she had custom-made specifically for these events. I know it took countless hours in preparing, and was so thankful that Becca invested so much of her time and energy in throwing me the most picture perfect showers that look like events that could be featured on a Special Events Magazine (haha does this sound too corny?? Feel free to omit/reword please!) I feel so lucky and truly blessed to have met a wonderful and talented friend like Becca. I cannot praise her work enough, as I'm sure everyone will agree who have witnessed her creative work."
As you can see, the photos of Becca's work are worth a thousand words! Even though you didn't get to attend these parties, you can see the detail, work, and creativity that is put into each and every aspect of Becca's artwork!
LAST DAY TO ENTER THE GIVEAWAY!!
Don't miss your chance to win Lavender's Blue Designs Easter Party Printable Pack!
To see photos of the complete pack, refer back to Tuesday's post!